The Good Stuff
Short Story
Dusk
by Alison Pearce
Length: 12 lines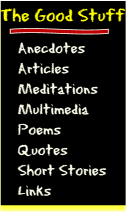 It's easy to
look into the future and
make the right decisions,
by accessing your own
Higher Consciousness.

- Audio Sample -
Making Decisions
- Audio sample -
Future Choices

Discover the
6 Essential Elements
to a Seriously Marriage.
Book, Ebook & Audio

Dusk
Blue skies turn to crimson and gold
Washing shadows with a pale rose
Enveloping the land below in its hold
The hour of beauty and mystical repose

At sunset as day and night slowly parts
The warm glow of passion and of love
Of surging blood and singing hearts
Abound under the scarlet cloak above

Clouds suffused with amber highlights
Gleam with the fire of the setting sun
As romance, young and renewed, ignite
Ruby skies of twilight embrace everyone


Dusk, 1908 Art Print
Monet, Claude
Buy at AllPosters.com


Reviews (applause received)

Be the first to review this poem - click here.