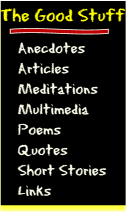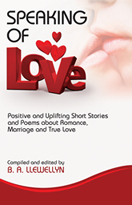 We are very proud to announce the publication
of our wonderful anthology exclusively featuring original works by some of the creative talent
discovered, nurtured and showcased
here at The Bright Light Café.

- Speaking of Love -
positive and uplifting
short stories and poems about
Romance, Marriage and True Love.

28 short stories and poems by
19 writers and poets from Australia,
the US, the UK and New Zealand.

Give yourself or
someone you care about
a real treat and read
Speaking of Love now.
You deserve it.
You deserve to feel wonderful.
You deserve
to feel wonderful right now.

More information ...

Welcome to The Bright Light Café!
| | |
| --- | --- |
| You've come to the right place for free, positive entertainment. When you feel like a meal of happiness, here are hundreds of pages of uplifting entertainment, giving you something enjoyable to read, listen to, play or meditate upon any time of the day or night. And it's Free! | |
If you've been feeling a bit down then here is your perfect mental, emotional and spiritual pick-me-up. We all become what we absorb most. If you've been absorbing negativity in your entertainment and environment then you are bound to feel negative. Absorb happiness and you will be happy.

Get the "The Good Stuff" Every Day

Come to The Bright Light Café for your daily meal of happiness. Spend time in our pool of positivity. We know happiness is a basic requirement for us all. We all know, deep in our hearts, that we need regular doses of happiness, as much as we need food and water. Everyone needs to see, think, hear and experience uplifting moments every day. The Bright Light Café presents a gourmet menu of such moments.

Free Entertainment, Free Showcasing

The Bright Light Café is also a free online showcasing centre for wonderful new and established talents. Our aim is to give the creative community an ever-increasing global audience and a chance to cross-pollinate their arts while focusing their talents on all that is positive, uplifting and fun.

Serving Positivity

We opened our café doors to provide you with a safe, happy place. Relaxation is here. Peace is here. Fun is here. Feel our friendship and warm smiles flowing straight to you, then choose your creative dish of the day, consume a quick treat or settle down for a hearty meal, and be revitalized. Return to us whenever you need another dose of happy. You are always welcome at The Bright Light Café! Enjoy!

Subscribe to our
Free monthly
newsletter
Join Now!

---
---
People are Talking:
"What makes the website special is the positive uplifting nature of the pieces that are published here. … I always come away feeling good."
Simone Busch Australia

"Thank you for such a wonderful site"
Colleen Logie

"I am really so grateful for your support and motivation"
Daniel Gbemi Akinlolu
South Africa

"The best part of it is the audio visual effect which makes it stand out of the crowd."
Vinay Goyal
India

"The Bright Light Café is growing by leaps and bounds, not to mention the new talent
and material!"
Denise Marshall
United States
"i would like to say that tonight I was in need of some happy and uplifting emotional help & have found it all here. It seems that choosing tonight to view the site may, have had a little spiritual guidance in bringing me here."
A Happy Soul
Australia