"True Love"
Writing Competition Finalist
Love's Sonnet
by Diana Isham
7 lines

Listen ...
Time: 0.26 minute

Voice: Barbara Llewellyn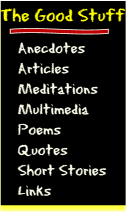 Do you know
the 6 essential elements to
a seriously happy marriage?
More information ...

Love's Sonnet
Oh refreshing, delicious love
Thine embrace cloaks me
In everlasting, reverberating poignant sonnet
That fills my soul
And brings me to the pot of gold at rainbows end
Which is only the beginning
Of Eternity!


The Poet - Diana Isham
I am a wife/mother/poet/writer/editor (mostly unpublished) who tremendously appreciates good literature.

Diana lives in Arizona, U.S.A.



Reviews (applause received)

Be the first to review this poem - click here.