The Good Stuff
Poems
After
by Kay F. Ruane
Length: 16 lines

Listen ...
Voice: Barbara Llewellyn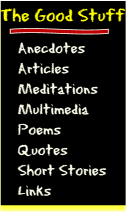 "The person who
does not read good books
has no advantage
over the person who
can't read them."

Do you know someone
who really needs to
Learn to Love Reading?

More information ...

After
The golden dreams
Of youth have past.
The burning ambition
Is somewhat paled.
The dreams I dreamed
Are mine, they last.
The seas have been
Valiantly sailed.
The hectic pace of life
Grows less.
The rich rewards
Their shadows cast.
This is the season
Of a soft caress.
I am content with life
At last.


Butterfly Bush Art Print
Casey
Buy at AllPosters.com


Reviews (applause received)

Be the first to review this poem - click here.