The Good Stuff
Poems
An Early Spring
by Bobbi Sinha-Morey
Length: 21 lines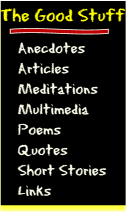 An Early Spring
In the pale yellow
morning of an early
spring a stillness is
in the air. No sound
but jays and I'm as
calm as a butterfly
who has closed its
wings. A silent wind
stirs the surface of
my childhood river,
swollen now after
the last midday rain.
All the while I hear
the water's echo and
cup my hands drinking
up the freshness, and
in the water I see my
own image. Pungent
leaves of a eucalyptus
lay around me haloing
my glowing skin.


Early Spring II Art Print
Walsh, Peter
Buy at AllPosters.com


Reviews (applause received)

Be the first to review this poem - click here.