The Good Stuff
Poems
By The Sea
by Sheryl Llorente
Length: 10 lines

Listen ...
Voice: Barbara Llewellyn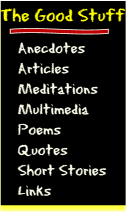 By The Sea
The cool breeze blows softly
against the heat of the sun.
The clear blue waters sparkle
and calls to me.
The beauty of the sea surrounds me
and I am swept away.
The rolling waves crash
in a rhythm that sings like a lullaby,
as a soothing calmness
slowly carries me off to dreams.


Sunset on the Sea Art Print
Werner, Dan
Buy at AllPosters.com


Reviews (applause received)

Be the first to review this poem - click here.