The Good Stuff
Poems
Convictions
by Sheryl Llorente
Length: 10 lines

Listen ...
Voice: Barbara Llewellyn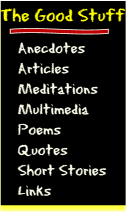 Do you think you
could do a great narration
of this poem?
Do you want to showcase
your talent to the world?
This could be your chance
More Information...


It's easy to
look into the future and
make the right decisions,
by accessing your own
Higher Consciousness.

- Audio sample -
Future Choices
Convictions
I long to wake to the brightest of sunshines
and to live in the finest moments of my life.

I dream to touch the tallest peaks
and to reach the highest skies beyond the clouds.

I will make sense of all that is right.
I will face whatever comes
with a strong and wilful heart.

I will love as if nothing else matters,
as if my very being exists solely
for the beating of my heart.



Believe
Hubble Space Telescope
Buy this Art Print at AllPosters.com


Reviews (applause received)

Be the first to review this poem - click here.