The Good Stuff
Poems
Golden Memories
by Kay F. Ruane
Length: 25 lines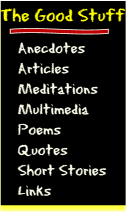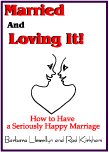 Don't let the 13 Myths that
Murder Marriage destroy
your happiness.
More Information ...

Golden Memories
In contemplating the passing years
I wonder where they went.
Remembering all the happy times,
Recalling how they were spent.
Is it almost fifty years
Since I became your wife?
Is this the eager, young woman
Who knew so little about life?
Time passes all too swiftly.
Crowded years come and go,
As we muddled through
Raising our family
And so ...
We are rewarded
With the fine people they've become.
The most cherished words in my life
Were ... "I do love you Mum".
How fortunate I have been
To share those years with you,
The long road we have traversed
And tripped along, a time or two.
A small part of those youngsters
Remains, and always will,
As together we make the climb,
Those last miles … up the hill.



'To My Darling', Floral Lettering
Buy this Art Print at AllPosters.com


Reviews (applause received)

Shell Morgan Australia
what an amazing visual poem, i sure appreciate my mod cons :)! Brilliant as per usual! *****

Be the first to review this poem - click here.