The Good Stuff
Poems
Love By All Means
by Du Phong Nguyen
Length: 16 lines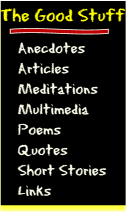 Love By All Means
You turn my pupil heart into the dawn break,
Cast the sunlight into my house,
I feel the magic of your smiles.

You make rain to drop water all over my summer drought,
The green fields are gladly dressing up,
I feel the sympathy of your comforts.

You create the colourful shining rainbow
Hanging on my fantastic sky after dark,
I feel the guidance of your torches.

When and where have I begun to acknowledge?
With no answers stay in my endless love,
I sense of your intimate relationship,
It touches my soul and desires my mind.
I donít even need to know who you are,
I love you like I never did,
And be loved by your all means.


The Kiss
Bright Light Multimedia
(from the book "Married and Loving It!")


Reviews (applause received)

Be the first to review this poem - click here.