The Good Stuff
Poems
New Liver
by Susan Palmer
Length: 13 lines

Listen ...
Voice: Barbara Llewellyn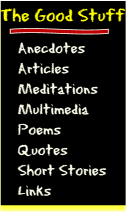 It's easy to
look into the future and
make the right decisions,
by accessing your own
Higher Consciousness.

- Audio Sample -
Making Decisions
- Audio sample -
Future Choices

Discover the
6 Essential Elements
to a Seriously Marriage.
Book, Ebook & Audio

New Liver
I need to go down to Walmart
And get a new liver.
This one's no good.
It gave out before the body went sixty years.
There must be some kind of guarantee.
A new liver is what I need.
But not made in China
Or Mongolia, either.
I'd like one made in Heaven,
But they're awfully expensive.
I would settle for one from Germany.
German livers are specially made
For beer drinkers, like me.


German Beer Art Print
Audrey, Charlene
Buy at AllPosters.com


Reviews (applause received)

Be the first to review this poem - click here.