The Good Stuff
Poems
The Nectar
by Kay F. Ruane
Length: 18 lines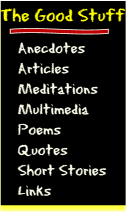 "The person who
does not read good books
has no advantage
over the person who
can't read them."

Do you know someone
who really needs to
Learn to Love Reading?

More information ...

The Nectar
One by one they were gone
heading for busy lives
Taking all the honey with them
Leaving an empty space
Where silence echoes
Unused toy boxes gather dust
There are no more requests
"What's for tea?"
An unasked question
Bereft feelings soothed
With the passing of time
Idle hands stir
At the sound of footsteps
A small face looks into mine
I hear the whirring of wings
They return to the hive
Like sweet nectar
Another generation.


Grandmother Art Print
Dudley, June
Buy at AllPosters.com


Reviews (applause received)

Be the first to review this poem - click here.