The Good Stuff
Poems
The Shape Of Serenity
by Bobbi Sinha-Morey
Length: 24 lines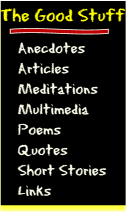 The Shape Of Serenity
Moments before dawn
I open my eyes to see
the gift of a new day,
the crest of the rising
sun and it welcomes
me like a friend who
reminds me of what
I've become. Today
no shadows follow me,
only the August light
revealing the secrets
of my home. For now
time is mine for wasting
and the idyllic hours
spent under the sky
shape the serenity till
dusk flowers above me.
The thought of tomorrow
is still young in my breast
and in the tangled waves
of warm air I soften,
alone in the sweet grass,
a languor weighing my
eyelids.


Brand New Day Art Print
Guskov, Dmitry
Buy at AllPosters.com


Reviews (applause received)

Be the first to review this poem - click here.