The Good Stuff
Poems
Tonic
by Sheree Ward
Length: 20 lines

Listen ...
Voice: Barbara Llewellyn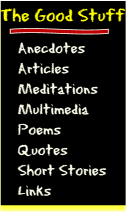 It's easy to
look into the future and
make the right decisions,
by accessing your own
Higher Consciousness.

- Audio Sample -
Making Decisions
- Audio sample -
Future Choices
Tonic
Self diagnosed as
an emotional aphonic;
only curable when given
a healing tonic.
The said tonic is rare,
and unknown to most.
to bottle forever:
to capture a ghost.
This is the secret thatís
known to very few;
I searched for the tonic,
and found it in you;
tried to share it only
later I realised,
this tonicís not for them,
itís personalised.
With all this in mind
knowing exactly what to do;
Iíve made my own tonic that is
exclusive to you.



Emotional Dance Stretched Canvas Print
Duval, Robert
Buy at AllPosters.com


Reviews (applause received)

Erik Estabrook United States
"what a cool concept,
I think the tonic is belonging its something that can cure any emotional stress"

Be the next to review this poem and performance - click here.