The Good Stuff
Short Story
Poached Egg
by Carl Palmer
Length: 195 words

Listen ...
Voice: Barbara Llewellyn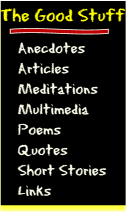 It's easy to
look into the future and
make the right decisions,
by accessing your own
Higher Consciousness.

- Audio Sample -
Making Decisions
- Audio sample -
Future Choices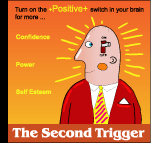 Stop your negative buttons being pushed.
When it's time
for a better life,
it's time for
The Second Trigger

More Information ...

Poached Egg
Part of Larry's 200 hours of community service was to help relocate the Henry County Museum. On his third trip he helped himself by relocating a fossilized egg from the dinosaur exhibit. He planned to sell the artifact at his brother Matt's yard sale that weekend at the Kitty Ranch on Old Mill Road. What didn't sell on Matt's table of garage and attic clutter, to include Larry's egg, was advertised on Ebay. The egg sold immediately as an ostrich egg to an Oklahoma emu rancher hoping to create a new breed of the other white meat.

Ronnie, the emu rancher, realized this was not an ostrich immediately upon hatching. The reptilian beast, being docile enough, grew to be a part of the Pryor Oklahoma community, home of Okie Stout Beer. Ronnie made national headlines when he allowed his daughter, little Tina, and her prehistoric pet, Fluffy, to appear as a live parade float in a local commercial for the new beer of Pryor, T. Rex Ale.

The publicity led to a paper trail back to Larry, who is once again working off his hours of community service, but this time not in a museum.



Reviews (applause received)

Gayle P.Hilliard
"Very cute & interesting story. Seemed so real & lifelike. A very God given talent. Keep up the good work."

anna jefferson United States
"as always you shine
keep up the good work"

Be the next to review this story - click here.