The Good Stuff
Short Story
The Opportunist
by Carl Palmer
Length: 250 words

Listen ...
Voice: Sky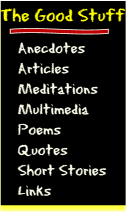 It's easy to
look into the future and
make the right decisions,
by accessing your own
Higher Consciousness.

- Audio Sample -
Making Decisions
- Audio sample -
Future Choices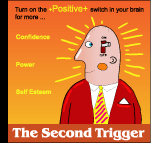 Stop your negative buttons being pushed.
When it's time
for a better life,
it's time for
The Second Trigger

More Information ...

The Opportunist
Jason Amalynn was the leader in his field of TV and movie special effects. His invention was a special Prism laser projector using image reflection and light refraction to create a 3D hologram. The mirage could be created and shown most anywhere on most anything, not just as trick photography on film, but projected upon buildings, clouds and even a waterfall once. I was in total awe of Jason as his understudy, however felt completely betrayed when he vowed to take his technique public. That's why I killed him.

Using only a picture of the original object, multiple objects were created, not unlike a mirror fun house. He wanted to donate this "illusion of mass" for military scenarios. Multiply our troop strength, virtually surround the enemy and cause them to surrender without loss of life. His humanitarian effort would not put money in my pocket.

Being completely familiar with the equipment, it was a cinch to setup my operation, and I had the perfect location, Pier 55, Seattle Washington.

My sign read, "Alaska Cruise Special $200 – Next 3 hours Only – Sign up Today and Sail Tonight".

Out in the drizzling foggy mist of Puget Sound was my cruise ship luring a growing line of suckers ready for a deal. I was racking in the dough so fast I didn't see the police arrive or see that the sun had come out to fade my cruise ship into reality.

My biggest mistake was to believe that it always rains in Seattle.



Seattle Sunrise Art Print
Corwin, Philip
Buy at AllPosters.com


Reviews (applause received)

Donna Lee Anderson United States
"Of course I loved the story-I always like your stories, but why not put a picture in with you smiling. I don't even recognize you without a smile. "

anna jefferson United States
"as always you shine
keep up the good work"

Be the next to review this story - click here.