"A Successful Life"
Writing Competition
Highly Commended Winner
Worldly Success
by Nicole West
36 lines

Listen ...
Voice: Barbara Llewellyn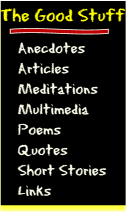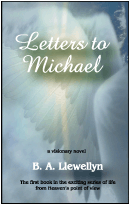 Letters to Michael
(A visionary novel)

Discover what happens when we die and why death is the greatest adventure of all.

Worldly Success
I love the feelings evoked by the simple thought of Tuscany,
especially a Tuscan villa, a crumbling Tuscan villa,
covered in vines on top a hillside,
facing a medieval village in the hazy distance.

I love the thought of bohemians, the notion of bohemianism.
Swirling, random images of deep colours,
flowing clothes or conceptual nudity,
seductive conversations, drowning in Parisian creativity.

I love the idea of magic, the idea that it is real.
Powerful witches chanting in a hidden forest,
Beltane rites, throbbing drums and hearts,
raven haired vampires wandering ancient British cobblestones.

I love the mixture of wine, food and sunsets.
Venetian painters in white overalls and whistling gondoliers.
Haunting music drifting through extraordinary piazzas and
heart wrenching images of true romance, everywhere.

I love the notion of hippies worldwide
travelling with backpacks full of cheesecloth.
Dishevelled dreadlocks and bouncing beads and
Jamaican homes of earth, trees and bongo drums.

I love the smell of the ocean at dusk.
Hilltop abodes brilliantly white,
winding alleys hiding secrets of Greece and
blood red flowers and the deepest of blues.

I love the sight of imposing castles.
Mist that dampens, clings and conceals.
Archaic burial sites, awe inspiring deeds and
ghostly mornings searching silent Scottish ruins.

I love the laughter of foreign cultures.
Empty gestures given with sparkling Thai eyes,
ears assaulted by noise and mind infused with strangeness.
Floating in aqua heaven, gazing at green Asian mountains.

I love the discoveries the world can bring.
Adventurous forays into unknown territories,
hours filled with breathtaking sights and life changing pursuits.
Feelings of being truly alive and utterly blessed, that is success.


The Poet - Nicole West
Nicole has been in the entertainment industry for many years as a dancer/entertainment supervisor and is now branching into writing, a lifelong passion. She is currently studying Travel Writing in order to combine an exciting world travel history with a desire to inform, excite and help others along their travelling paths. Her first published story was "Meeting Julian" on The Bright Light Café website.



Reviews (applause received)

Carly West Australia
Beautiful, wistful, inspiring....I love it :)

Tahra Australia
Great! I could invision every character and place described! What a great feel this poem left me with! A great understanding and view! Congratulations nicole!