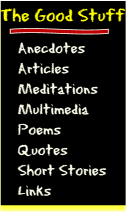 Bright Light Café - Multimedia
Bright Light Café proudly welcomes you to our multimedia playground.

Here is your chance to:
Create you own masterpiece (mix and match sight and sound)

Relax with visualisation and breathing exercises

Play a game

Doodle

Be thoroughly entertained
Mix & Match
Look, Listen, Play, Meditate, Exercise, Add Music,
Let the Art melt in with the silence ... or the sounds.
individually, coupled together,
or all at once ...

Every piece of art,
every game
and every sound bite
has been chosen for its positive, fun and inspiring qualities.
Each page is a golden opportunity to relax and revitalise, while looking, playing, dreaming, listening and meditating.

You Choose ... and Enjoy!

Submit your own original uplifting work of art
(photo, drawing, painting, animation, video , short film)


Disclaimer: All Bright Light Multimedia websites, products, information, meditations, exercises and creative works are meant purely for entertainment and enjoyment, self-empowerment and self-growth. They are not intended to replace professional health care and advice, and if appropriate you should obtain medical advice before use.