The Good Stuff
Short Story
Halloween Snapshots (iv)
by Susan Palmer
Length: 38 lines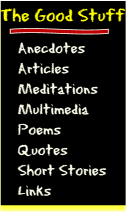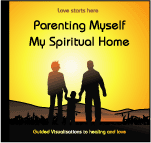 You can now have
the perfect parents
you've always wanted,
living in the
perfect
eternally nurturing
environment for
your emotional and spiritual growth.

With Parenting Myself
and My Spiritual Home
to guide you, you will
always have quick
access to your most
nurturing and
inspirational aspects.
You now have the tools to be the best
person you can be.


It's easy to
look into the future and
make the right decisions,
by accessing your own
Higher Consciousness.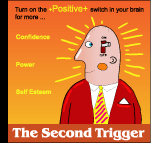 Stop your negative buttons being pushed.
When it's time
for a better life,
it's time for
The Second Trigger

More Information ...

Halloween 2008
Halloween night it's sure to rain,
Or snow.
Anyway, it will be dark and scary.
We hope.

It is the only night of the year
When "Ugh, Gross!" is a compliment.
The only holiday
Our pastor has nothing to say about.
The only holiday we don't get out of school.

The whining starts in mid-October.
"Mom, all the kids have buck teeth.
Mom, all the kids are wearing torn eyeballs.
Mom, witches don't wear sneakers."

But that night there is no whining.
Instead, there is mother- fussing
"John, don't get blood on the carpet.
"Mary, quick picking at those scars."
"Sam, quit eating all the worms."
"Now, Mike, if you fall down,
Just keep yelling until someone picks you up.
Do you really have to be a box of cereal?"
"I don't care. This witch is going to wear a jacket."

The only night when grownups
Are expected to act like kids.
When kids can be anything, even bad things.
When candy is allowed without asking.
When people dump their heads underwater
Chasing apples for fun.
When food is made scary.

The only night when it is
Absolutely essential for a teenager
To be ugly.
Or ostentatious.

Get out the glitter.
Get out the makeup,
Get out the gore.
A party is going on outdoors,
All over America.



May Fortune Smile on You, Halloween, Girl on Broomstick Art Print
Buy at AllPosters.com


Reviews (applause received)

Be the first to review this poem - click here.