The Good Stuff
Poems
No Bird Song
by Agatha Lai
Length: 12 lines

Listen ...
Voice: Barbara Llewellyn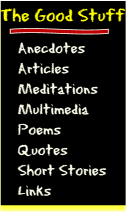 No Bird Song
I switch off all lights,
sit, anticipating inspiration
from the darkness absorbing me.

Nothing :
No bird song reaches my ears
to break the silence;
save the night wind
across the threshold.

Hugging both knees,
hair tucked behind my ears;
I listen to the whispering leaves,
imagining the dancing trees.


Imagination-Its Limits
Buy this Art Print at AllPosters.com


Reviews (applause received)

Be the first to review this poem - click here.