The Good Stuff
Poems
Not This October
by Stephen Pray
Length: 19 lines

Listen ...
Voice: Sky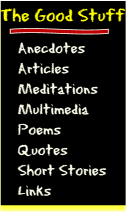 It's easy to
look into the future and
make the right decisions,
by accessing your own
Higher Consciousness.

Not This October
Last October was mean,
spits of snow and ice
came out of nowhere to bite like
swarms of mosquitoes in the spring.

Not this October...

Gentle breezes warmed the skin
and cool rains fell to quench the thirst
of parched ground.

Last October we had snow six inches deep
by the first two days,

Not this October...

There was no hint of snow until mid-November.

Last October, leaves on the trees were ripped away...
swirling into mini twisters in the yard.

Not this October...

Leaves stayed gold, scarlet, yellow;
gently cradled by soft winds
to blanket the ground,
awaiting a winter-white frock.



Autumn Colors, New Hampshire Photographic Print
Cowan, Jules
Buy at AllPosters.com


Reviews (applause received)

Be the first to review this poem - click here.