The Good Stuff
Thank You Skinhead Girl
by Sharon Woodward
Length: 39 lines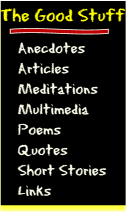 Thank You Skinhead Girl
Dandy Livingstone on my MP3 player, sing out to me "a message to you"
Once a bus journey obsessing of a Crombie coat, now concerned of a presentation
DM boots replaced with a set of heels, a businesswoman in a business suit
Thank you Skinhead Girl, you were such a pearl amongst a row of many
Looking after me in my dark teen years, supporting me through my many fears

The Square of Bonn displays tourists eating baguettes with cappuccino take-aways
No more do I see the shaven and multicoloured heads, no more drunken walks to the multi-storey car park
Where Saturday lovers would struggle with boots and braces entangled and entwined
Thank you Skinhead Girl, through that passage of time, on the path of broken bottles
Never asking for thanks along the way, your thoughts too absorbed in your day to day

Though the car park I avoided, I did succumb to your Westgate Centre advances
Allowed your head under my Fred Perry, I rotated my hand around your flies,
an adequate compromise, though not unfortunately in your eyes
Skinhead Girl you longed for so much, only requiring an intimate touch
Only too afraid to take a lover, you withdrew into yourself like no other

That was to be our only trice, afraid of further intimate exchanges I ran, and I fled
You were as though you had never parted from your beautiful spiky haired girlfriend
Then you were both gone, we mourned your loss, your passing, your youth
But Skinhead Girl you cried away, you were only saving your heart for another day
You knew deep down it was never to be, lovely but not for you, that you could see

The bonehead departs, leaving his music behind, you and I didnít understand
We were 16, browbeaten, but sad my loyal friend as he disappeared from your life
I smiled, Desmond Dekker albums in tow, leaving us confused and bewildered
Skinhead Girl I thank you for protecting me from those whose roar
The negative and promotion of loathing, although insecure you continued striving

Paranoia set in with remaining slimming tablets no longer in my control
The fun had gone, your friend had gone and you were on your own
Alpha skinhead male still taunted me, although no more did I exchange insults
Hold on Skinhead Girl you are still strong, to reach your target will not take long
Your poetry and art are becoming seen; ambitions held will be more than a dream

Poor alpha skinhead murmurs of womanising accompany rumours of rehabilitation
He was as lost as I, but my anger would not allow me to forgive
The olive branch he offers me I reject, he can only do one thing, insulting continues
Skinhead Girl you made me learn fast, forgiveness is important of someoneís past
Forgiveness at that time was not on the table; in the future you will be more able

I walked the same pavement 24 years before, but I was different then,
I was without the knowledge I now hold, the confidence, and the clarity in my abilities
I was comforted by the skinhead girl inside; you will no longer have to hide
You helped me before I knew, before I loved, was loved, before I grew



A Trio of Teenage Girls Photographic Print
Nowitz, Richard
Buy at AllPosters.com


Reviews (applause received)

Ali Palmer-Smith United Kingdom
"A great poem Shaz keep up the good work
Love Ali"

kev jackson United Kingdom
"to both belong and to be on the outside is a point in time that will always stay with you"

Kate Leimer United Kingdom
"Poignant and uplifting"

Linda Lees United Kingdom
"The true hallmark of a good poem is to give a personal confession universal resonance. I will look forward to reading your future work with great interest (and affection)"

Alison Australia
"this poem brought tears to my eyes as I read it
brilliant, moving, meaningful, real, raw,
great work sharon
lets have more from this well of talent
love and power to you!!!!!!!!!"

Jane Lacey United Kingdom
"Really touching"

Dave Williams United Kingdom
"Way to go Shazza! Dave x"

Graham Hunt United Kingdom
"Reminded me of myself as a young new romantic in the early eighties , being niave scared of the world and unsure if I would ever achieve anything or even want to live in to my 30s and forties. How glad I am now that I came through it ."

rachel foggitt United Kingdom
"wow! thats great sharon
rach x"

kate stewart United Kingdom
"I remember that skinhead girl well."

Be the next to review this poem - click here.