The Good Stuff
Poems
The Truth
by Sheree Ward
Length: 24 lines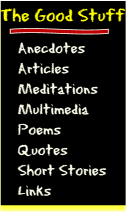 The Truth
I am confused with this Ö my own feelings,
and think that I need to let them air.
Trying to figure them out by myself
is only creating more despair.

I really do like you, intensely;
Admitting this is not my forte,
sorry if this comes as unwelcome.
Dormant no more this confession lay.
By getting this out in the open
you need to know that Iím being brave.
Try hiding emotions from others;
Iíd prior taken this to the grave.
I understand if you donít feel this;
this is to me still unclassified.
Donít avoid telling me brutal truths:
Iím a friend in which you can confide.
Even if you think I am off track
donít believe my feelings lie at risk.
I ask that you just be honest now,
And if truth, that you please tell me this Ö
Simply tell me bold that you do not.
There is no need here for fancy words,
I will accept it in a heart's beat,
and be most grateful for having heard.

There is no sure fire way of knowing
as to what the outcome of this maybe,
but I could not just keep keeping on
with this unsaid and hiding within me.



In Truth There Is Love Art Print
Amrhein, Elvira
Buy at AllPosters.com


Reviews (applause received)

Be the first to review this poem - click here.