This delightful and enchanting story was chosen to appear in Bright Light Multimedia's latest anthology,

"Speaking of Love".

For your pleasure and perusal, we present an extract from ...

Arcadia
"Can you meet me at lunchtime, Emma? It's important."

"Love to. See you at the usual place."

Emma sat on the park bench waiting for Brad, enjoying the fragrant pink and white carnation display, the dappled patterns of swaying gums on the path. Why did Brad want to see her? The phone call came as a surprise but, after being together for three years, perhaps he wanted to pop the question.

Brad strode over, grim-faced, his eyes evading hers, and flung himself down beside her.

"I'm sorry, Emma, but it's over."

She flinched, "What's over?"

"Our relationship."

"Why?"

"I've met someone I want to marry."

Emma's heart sank. It couldn't be true. She watched Brad's lips move but couldn't make sense of his words. How could their relationship be over? He loved her. There'd been no arguments, nothing to suggest anything was wrong. But one look at the determined set of his jaw told her nothing would change his mind. Dazed, she stumbled back to the office.

Brad's heartlessness occupied her mind all afternoon as she sat at her desk, contemplating the stack of files to be processed. She lifted a file off the top, opened it and read the correspondence, but could not absorb it.

Over the dinner table, she broke the news to her parents.

Her father rested his cutlery on his plate. "Who's the girl?"

"I don't know. I didn't ask."

Her mother shook her head. "I thought Brad was ready to commit."

"So did I."

Emma tossed about in bed, thinking of Brad and his stony-faced refusal to meet her eyes. Tears flowed down her cheeks and spread onto her pillow. No matter how she tried, she couldn't accept he loved someone else.

At work the next day, she told Philly.

"That's awful, Emma," Philly pursed her lips, "But these things happen. You'll get over it."

Emma's lip trembled, "I don't know if I will." She lifted a file from the stack, "And I can't concentrate on my work."

Philly touched her arm, "I'm going home to Arcadia this weekend. Like to come?"

The complete story can now be found in Bright Light Multimedia's latest publication
Speaking of Love
- positive and uplifting short stories and poems about romance, marriage and true love -

Click here for more information

Editor: "Arcadia" is a wonderful story – in fact, we like it so much, we chose it to go into our book about the joys and wonder of love – "Speaking of Love". If you know someone who enjoys feeling good all over, then this is the perfect present for them. Remember you deserve to feel happy too. Why not give yourself the gift that keeps on giving – "Speaking of Love".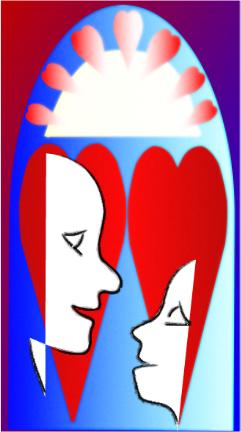 Sacred Love
by B.A. Llewellyn


Reviews (applause received)

Anne Barre Australia
"An inspirational and happy love story with playful description of Arcadia and its atmosphere. What a talented author and friend!"

Kathy Australia
"A great story! Nicely paced and beautifully written. I'm glad Emma found her true love."

Janice Australia
"Congratulations on a feel good, beautifully & simply written short story."

Vicki Australia
"A lovely way to start the day."

Anne Herron
"Wonderful story , well done."

John & Judith Cornish
"An excellent story, well-developed,kept us reading, beautifully written."

Kristen McAuslan Australia
"A lovely story with a happy ending! I really enjoyed reading it, I felt all warm and fuzzy inside."

Julia Jones Spain
"Really enjoyed a feel good story"

Paul Harvard Australia
"I felt happy and uplifted. It also made me feel optomistic."

Judy Hamm Australia
"Brilliant short story. Great characterism"

Robyn Australia
"Enjoyed Arcadia very much. I have such a talented friend!"

Leone Barnes Australia
"A delight to read."

Lorraine Australia
"Nice read- well written."

Wendy Lown Australia
"I liked this story. It avoided being "gushy", the prose was compact and the message uplifting."

Madonna Hooper Australia
"This was a sweet read and a sweet story. Had me hooked and hoping for a happy ending so I was well rewarded. I loved the descriptions of Arcadia, felt I was there. Thanks for brightening my day!"

Kylie Peppinck Australia
"I love escapism"

Pauline Behrendorff Australia
"Easy read. Tender,clean,love story set in a peaceful place, Goodness overcomes."

Gillian Chapman Australia
"Interesting, bubbly 'young person's' romantic short story."

Fran Smith Australia
"Delightful romance. The graphic descriptions throughout the story were wonderfully visual, painting each setting beautifully. Enjoyable."

Toni Nixon Australia
"Love a good romance. It's a great little story and just goes to show that, ultimately, true love reigns supreme. To all the girls out there, bide your time and hang out for the right one!"

Marilyn Gay Australia
"What a lovely read. Well written, happy story not overdone. Very enjoyable."

Be the next to review this story - click here.