"True Love"
Writing Competition
1st Prize Winner
In the Dark
by Larissa Davisson Farrell
24 lines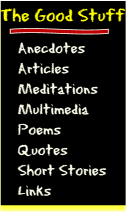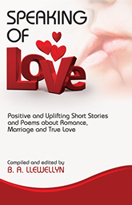 - Speaking of Love -
positive and uplifting
short stories and poems about
Romance, Marriage and true Love.

If you're in love with love,
then join the club -
everyone who wants a brighter day and a brighter world belongs to the exact same club
and we're all looking for ways to make our hearts sing and our eyes shine.

LUCKY for us, Speaking of Love
manages to do both.
Give yourself,
or someone you care about,
a real treat and read
Speaking of Love now.
You deserve it.
You deserve to feel wonderful.
You deserve
to feel wonderful right now.

More information ...

This delightful and enchanting poem was chosen to appear in Bright Light Multimedia's latest anthology,

"Speaking of Love".

For your pleasure and perusal, we present an extract from ...




In the Dark



He sat back in the chair
watching her sleep.
She slept like an Olympic athlete,
focused on the task at hand.
She always laughed that sleep was her religion
And, watching her, the devotion was absolute.

His mind drifted ...
The mortgage was large,
money short,
and they worked so hard.
Never seemed to have time for anything between work
and the renovations.

The complete poem can now be found in Bright Light Multimedia's latest publication
Speaking of Love
- positive and uplifting short stories and poems about romance, marriage and true love -

Click here for more information

Editor: "In The Dark" is a wonderful poem – in fact, we like it so much, we chose it to go into our book about the joys and wonder of love – "Speaking of Love". If you know someone who enjoys feeling good all over, then this is the perfect present for them. Remember you deserve to feel happy too. Why not give yourself the gift that keeps on giving – "Speaking of Love".



The Poet - Larrisa Davisson Farrell
My name is Larrisa and I am Australian. I live in Sydney and work in a office like a million other people. I believe in Santa Claus, a good red wine and the eventual possibility of world peace.

I have been writing poetry since childhood and feel I have only just begun to find my voice. I love writing and embrace the opportunity to reach people in a most personal and intimate way.

My inspiration comes from everyday moments in life. I am also fortunate to have found a muse that inspires me daily to be a better writer and a more complete and compassionate person, and it is for him my words have resonance.



Reviews (applause received)

Mairi Neil Australia
"a well deserved winner for a beautiful poem abut true love - I also loved your sentiments about world peace and Santa Claus - your voice is profound please keep writing. Well done!"

Paul Australia
"Inspirational!"

Be the next to review this poem - click here.