The Good Stuff
Poems
Distant Memories
by Stephen Pray
Length: 18 lines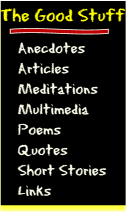 Distant Memories
The slow ticking of the clock
Does not break the silence
In a dimly lit room. A shaft
Of sunlight creeps through the dancing
Dust motes.

The soft purr and long
Look of disdain from opalescent
Green half-lidded eyes, soft sighing
Wind whispers through gossiping leaves
Of gold and red, and stirs a small dust
Devil in the drive.

Murmuring waves lapping at rounded stones,
And white toes of sand.
Long blue looks hedged between
Hazed evergreens. Soft salted scents of
Free floating mists. Blue, dotted by buttons
Of butterflies. Sweet short songs
Sung to an open empty field.



Norman Rockwell - Fondly Do We Remember
Rockwell, Norman
Buy this Magnet at AllPosters.com


Reviews (applause received)

Be the first to review this poem - click here.